Visitor Management System and App
 

(Physical/ Facility Access Control Software)
Schedule a visitor management system and app

DEMO

,

or call a facility access control software expert to see if this is the best visitor access control system for your needs:

(800) 688-9633
A visitor management system is a physical access control software solution that manages the comings and goings of visitors—whether those "visitors" are random, as in persons entering or exiting a museum, or regular visitors, as in residents entering or exiting their condominium or contractors entering or exiting a construction site.  Vehicles can be logged this way as well, which is why a visitor management system is sometimes referred to as physical access software or an access control app.  A good visitor/ access control management system automates the entire procedure, streamlining processes, increasing security, and even making it a more enjoyable and secure experience for the visitor.
While facility access control software can refer to additional measures used to regulate and monitor the entry and exit of people or vehicles into or out of a facility, visitor management is a big part of a facility access control management system too.  Whether referred to as a visitor management system, physical access control software, or a physical access management App, a good visitor management system simply improves security for both people and facility assets.
This visitor management system can grant access to an entire facility, or only to a single room. The AccountAbility Global access management software makes the process easy to use, easy to deploy, and affordable, whatever your use for a simple visitor access system and app might be.
Whether you are a security guard company who is looking to increase your customer base by offering a visitor access control management system, or an HOA, for example, who wants your own visitor management software in place, the access control system experts at AccountAbility Global are here to serve.
Call

(800) 688-9633

to discuss this simple, efficient, and affordable visitor access management system or click HERE

to get a demonstration of the visitor software & app.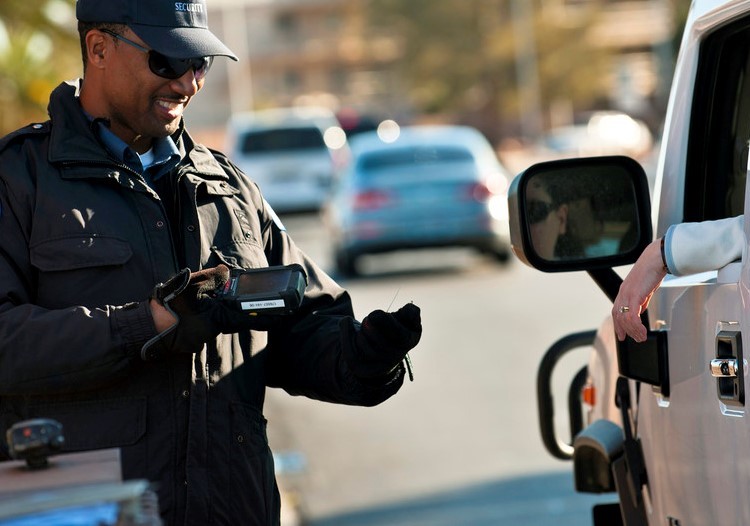 The AccountAbility Global visitor access management system and app is an optional part of the security officer management system, or it can be acquired as a standalone.  In either case, here are some of the components of this visitor management system, specifically:  
Simple Visitor Registration: As visitors arrive, they are granted access to the facility after the mobile visitor management app user either fills in a visitor form, or scans a visitor card, badge, or access ID.
Mobile Form Option: If the visitor management system mobile app form is used, that form is filled in with as much data as is required, including relevant pictures. When the visitor later exits the facility, all that is required by the visitor access app user is to type in that visitor's name to pull up their pre-populated departure form, which can then be easily edited.
Scanning Option: The AccountAbility Global visitor access management system includes the option to scan a visitor in and/out as well. This can be done in the form of a badge, or a card, or some customers keep all the regular visitors in a book at the guard gate or lobby and grant access after scanning the resident, contractor, etc., directly from there! In the case of the visitor scanning option, any information is collected by the access control mobile app user the first time they scan that individual in.
Identification: If a regular visitor is removed from the active visitor list, then the access control software will give an indication to the officer checking people in or out that this person is no longer allowed (if that was the intention in removing them).
Checking In and Out: When a visitor departs, the facility access system user can scan them out, if no additional data needs to be collected, or pull up the original visitor form by simply entering the visitor's name. In the second case, the original form can then be edited for departure, including any notes and pics, if necessary.
Real-time Reporting: When a visitor arrives or departs, that data goes into the access control system ADMIN PORTAL in real time, so you can check who is on premises at any time, right up to the minute. And if you choose to give limited access to the visitor access control software to your customer, you accomplish this with the customer facing REPORTS PORTAL. Here your customer can receive the same data, but does not have the ability to edit it, as the administrator of the visitor management system does. Both portals allow the visitor access control reports to be pulled, saved and/or printed, using a couple of very simple filters, to give you exactly the visitor management report that you want, when you want it.
Traditional Reporting: Besides the real-time portals listed in the previous point, visitor access control system management/Admin, as well as your customers (if you so direct), can receive an emailed visitor report each morning. If you are using the entire AccountAbility Global Security Officer Management System, then Incident and DAR (Daily Activity Reports) can be emailed as well.
Click

HERE

to schedule a visitor management system demo or call

(800) 688-9633

to discuss this visitor facility access control software and app.
The benefits of having the AccountAbility Global visitor management system in place are many, including but not limited to security, simplicity, analytics, and digital records and reports.
When submissions are made from the field by the user of the mobile visitor management app, a report is automatically recorded, including any notes and pics included.  These reports can be run any way you wish using the simple visitor access report filters in both the ADMIN (for you) and REPORTS (for your customer) portals. You can then use that data for your analytical purposes, including what times of the day are busiest or how many times a month a particular visitor comes and goes, for example. And having those records and reports automatically created, based on the visitor management app user submissions, will help with compliance too if your business is subject to related audits and regulations.
Clearly, facility security is improved with a visitor access control system.  Whether the "visitors" are regular personnel and vehicles arriving and departing from the facility, or new visitors being monitored through a guard gate or hotel lobby, the records and reports that are automatically generated when submissions are made from the mobile visitor management app accomplish this. And in the case of a hazardous location, such as an oil field or factory, the visitor management system keeps everyone safe by recording arrival and departure, if useful.
Simplicity is key for the user of the visitor management system app, the recipient of the visitor reports, as well as the persons and/or vehicles being granted access to and departure from a facility.  The process needs to be smooth and efficient from end to end. A simple visitor access control management system is ideal, so that is what AccountAbility Global provides. And, while this visitor access system is very simple and intuitive, the support for the AccountAbility Global visitor management software/ facility access management system is among the best in the world.  Having years of background in 24/7 on-call support to the security officer industry, we are here when you need us to provide support for your visitor management system users.
So, whether you are a security guard company looking to expand or simplify services, or a hospital, factory, school, or any business or institution that needs to regulate the physical facility access of your visitors, this visitor management system has you covered. Data collected can be used simply to record persons or vehicle's arrival and departures to pull records if you ever need them, or the system can produce analytics that will help you with establishing better visitor policies and procedures and/or to identify and correct any anomalies or patterns that may be useful.
Call a visitor management system expert at

(800) 688-9633

or click

HERE

to schedule a demo of this simple and affordable facility access control software and app.