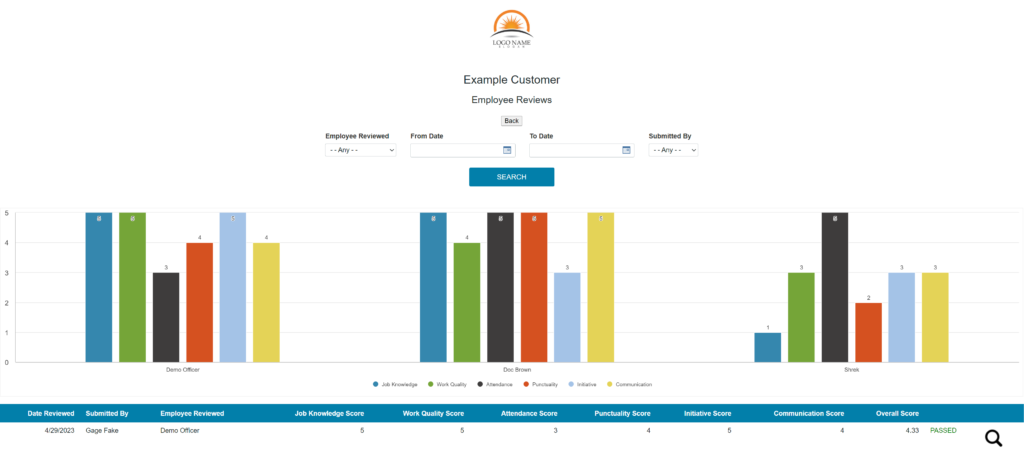 Custom Security Forms and Reports APP
Custom Security Forms and Reports, combined with the customizable security guard app, make this Custom Security Forms and Reports capability powerful and unique.  
A custom security forms and reports app may be useful to your security workforce management operations in many ways. But while everyone can guess what a "custom report" is, it is important to understand the extent to which this is actually and uniquely a completely customizable APP, to house your custom forms and reports.
Custom "Forms", first of all, refers to the data collection piece, whether that is the mobile security officer app report forms, or the custom forms are being submitted from a desktop. The data collected from the field through the custom forms then feeds into the final related custom REPORT.
Call our custom form and report app and software specialists at

(800) 688-9633

or click to schedule a

DEMO.
Many of the security guard app and related security workforce system functions are already easily customizable by you, and at no charge. While we are happy to build you whatever you need, we definitely recommend that you consider trying the standard highly-adjustable security workforce system and app to see if it may well work for you with the many adjustments that can be made.
For example, for the standard reports—Incident Report, Activity Report, Person/Vehicle Report, Task Report, and Visitor Report—you choose the "Types" of reports. So, while we deploy your system with industry standard types for the reports ("Activity Types" including Foot Patrol and Door Check, for example), YOU can change them to whatever "types" you want your mobile app and desktop app security officers to choose from.
And to top it off, you can even create report "Types" by client. So, if you have a hospital who need a special group if Incident Types, maybe, "Patient Out of Room", "Slip and Fall", etc., only your security officers submitting report forms for that client/site will have those Incident Types to choose from, and your customer's reports will reflect the same!
Another no-charge customization option is to direct us, through a phone call of email, to add or delete functions for you. When first deployed, your security workforce system and security officer app will be loaded with standard functions (plus a couple), including Activity, Scan, Incident, Person/Vehicle (to collect additional photos and detailed information on persons or vehicles of interest, as part of an Incident Report, or stand-alone), Post Orders, User Manuals, the mobile PANIC Button, and functions allowing you to edit the data through your ADMIN PORTAL, and your mobile security officer app users to edit/make corrections to their own current shift data while on duty.  The initial deployment will also include other perp and officer lookup and Supervisory functions too…all the hits.    
But if you need additional functions like Visitor Management, Neighborhood/ Community Watch, or others listed in the User Manuals and throughout the website, we can have them all added within the day.
And the same is true if you want us to limit functionality. Perhaps, for your purposes, you only want field security personnel to have a scan button and Incident Reports. Your wish is our command!
So, a WHOLE LOTTA customizable aspects to the standard security officer management system and app. 
If you need a custom form and report for your company or a specific customer call (800) 688-9633 or click

HERE

to see how affordable customization can be.

  
And that brings us back to where we started:  Customization, just for you and your customers.
The platform at the core of this custom security forms and reports app is ultra-secure and dependable. It is also a very unique set-up that allows us to build the app YOUR WAY. So, besides all the previously mentioned methods to make this app fit your needs, we can build you completely custom forms and reports for a very nominal fee. And we will not only accomplish your custom report needs affordably, but much more swiftly than any competitor we've encountered.
Whether you need a special security workforce inspection custom form and report for your company as a whole, or your new 168+ customer wants a special "Light Inspection" form, you send us a PDF, or a handwritten copy, or scribbles on a drink napkin, and we will get you a custom form and report quote in no time, and have it built shortly thereafter.
And finally, to fully explain the use of the word "App" at the end of the page title: This app is so flexible that we could conceivably remove the scan button for you and fill it with only completely custom forms and reports. That kind of custom fit is HUGE…and we are unaware of anything else like it in the security industry.      
Custom forms and reports for your security officer agency should be fast and affordable. Call

(800) 688-9633

or click for a

DEMO today to see it this is the best custom forms and reports app for you!