Scanning
NFC and QR Codes
With the Guard App
Scanning QR Codes and NFC tags is simple, affordable with this security guard scanner app

. Call

(800) 688-9633

or click to Schedule a scanning app

DEMO.
Scanning NFC tags or QR codes is at least partly understood if you have landed here.  The "honor system", paper and pen, key systems and wands are all outdated, as modern security officer agency customers expect real-time reports and data, which the AccountAbility Global NFC and QR scanning security guard app deliver.
To clarify, if you are not familiar with one or the other scannable point types, or their specific benefits:
QR codes look similar to bar codes and, when the security guard app SCAN button is tapped, the camera opens and "reads" the QR code as the checkpoint/location name that you have designated through your ADMIN PORTAL. This then opens the related checkpoint scan form, into which the mobile security officer can dictate information about the location, and take a relevant pic or two, if useful. We provide all the QR codes you request at no cost, which can then be printed to weatherproof, self-adhesive nylon labels to hold up against the outdoor elements.
NFC tags, or NFC badges, or fobs, or any of the number of forms in which NFC can be delivered, are a passive chip encased in plastic. This passive chip can be "written" by Management level users of the AccountAbility app to match any of the checkpoints designated to a site in your ADMIN PORTAL. The benefit of NFC is that NFC cannot be duped, whereas a QR can be photographed by an unethical mobile app user and scanned elsewhere. While there is a cost per NFC tag, we will provide you with a direct link to our wholesaler.
In either case, a geo-tag, or GPS pin, will show the Management/Admin of the AccountAbility security workforce management system where the officer was when they submitted their scan. The NFC method just means you don't need to check it as often because an officer would need to physically REMOVE an NFC tag and take it elsewhere to scan, which is…kinda obvious. A cost-effective hybrid method that many of our customers have used is to create CLOCK IN and CLOCK OUT (or ON DUTY and OFF DUTY, if you do not want to use the Timekeeping Report functions) NFC tags, requiring the security officer to be on Site to do both, then use QR codes for the physical checkpoints on site.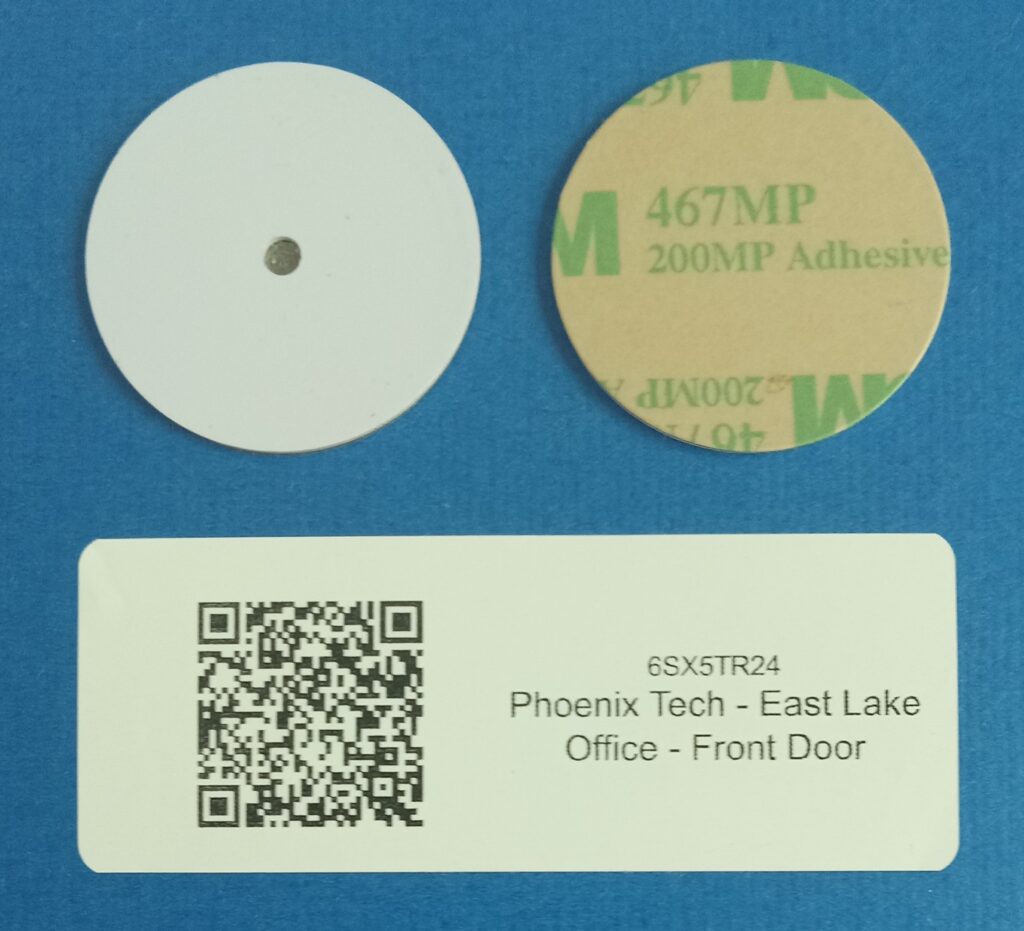 As indicated above, besides the checkpoints used to indicate all the physical patrol or tour points—"Southwest Stairs", "North Swimming Pool", etc.—NFC and QR can also be scanned for Clock In & Clock Out if you wish to use Timekeeping Reports to assist with billing and payroll. If not, On Duty & Off Duty, as well as Begin Shift & End Shift are options to frame a security officer's shift and automatically log the officer out of the app as well. None of these options are required, of course.
A third checkpoint recording option exists, which is a "Virtual checkpoint". One example of a use of this function is a "Celebrity's" home, where they might not accept QR codes or NFC tags being affixed to their property. A Virtual Checkpoint can be selected via the ACTIVITY FORM and will provide a geo-tag as well.
Geofencing is another excellent consideration, to make sure that your security workforce cannot submit activity or other reports when off site.
NFC tag and QR code scanning help keep your security workforce accountable and so keep your customers happy and loyal. Call

(800) 688-9633

or click

HERE

.
This NFC and QR scanning security officer app is very unique, and in a VERY efficient way. AccountAbility Global has actually developed this security guard app scanning technology to be COMPLETELY customizable to your needs. What that means is, you can set officers to scan only QR codes, or only NFC tags, or BOTH, or…nothing. Seriously.
Example 1 (a common example type):
You launch with the standard and incredibly effective features and, after getting your team used to the system, you make adjustments, giving certain officers access to both NFC and QR scanning and limiting others to one or the other.  You also advise us that you want to add "Company Vehicle Reporting" and "Visitor Management".
Example 2 (an extreme example to demonstrate the flexibility of the security guard scanning app):
You sign on and send us three completely custom forms ("forms" being the function of the security officer app that collects data, for the purpose of generating the corresponding REPORT) you need built and advise us to remove ALL other functions, including the removal of all scanning capabilities.
Example 3 (another extreme):
You direct us to place only the Incident Report within the mobile patrol app and have the scan function open a custom "Inspection form".
And, to expound on the "scan to open report forms" point, this security workforce management system has been designed so that native forms, as well as custom forms, can be opened by scan. Whether it is a regular visitor/ resident/ employee whose QR ID card or NFC badge you scan, or a custom "Site Inspection" form that you desire open any time a supervisor scans a specific NFC or QR at the site, the AccountAbility Global team have got your six. 
The obvious point is that this is the most flexible and customizable NFC and QR scanning app that we are aware of, and we have been in the security industry for a long time.
Whether you need a simple QR code and NFC scanning guard app or can use the diverse custom capabilities, call

(800) 688-9633

or DEMO of this excellent QR and NFC scanner.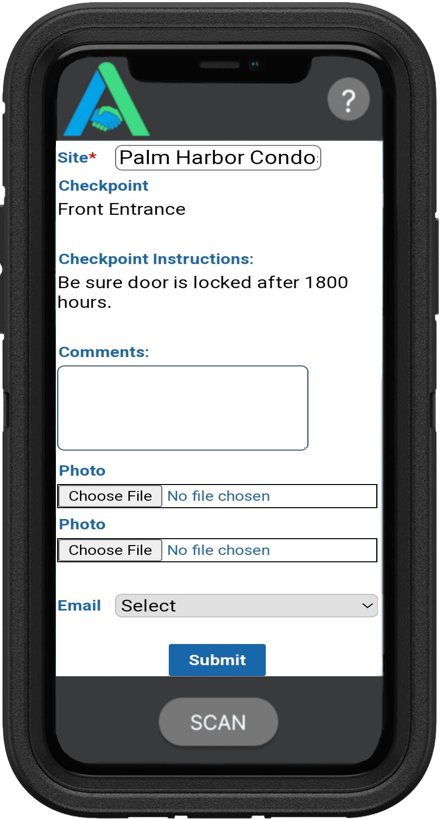 Another convenient function is the ability to add "Checkpoint Instructions" to any QR or NFC scan. Instructions are extremely simple to add to scans remotely through your ADMIN PORTAL, from anywhere. What that means it that you can have permanent instructions that open when a security officer scans the NFC or QR, like, "Be sure door is locked after 1800 hours", or, a temporary instruction, perhaps attached to the CLOCK IN or ON DUTY QR or NFC at a site, like, "Break-in Unit J-211 last night. Be on alert". The Checkpoint Instructions appear any "Comments" the guard needs to make on the app Scan Form, so they can't miss it!
A GPS "pin", or geo-tag, is attached to every NFC and QR scan, and to every "Activity Form" submission. The geo-tags populate your real-time dashboard in your ADMIN PORTAL, as well as the "Details" of any specific submission, where an actual satellite photo of the area is enclosed. You can choose to include these geo-tags for your customers as well, including a real-time map of their site, similar to your ADMIN PORTAL, but that is your option. Otherwise, all QR and NFC scans and Activity Forms submitted during a security officer's shift go into generating the DAR (daily Activity reports) and/or SHIFT Reports, including optional pictures with every time-stamped submission.
And ALL THIS is delivered simply and affordably.
If you are looking for an NFC or QR code scanning security guard app, you have likely found the best QR and NFC scanner on the market, and definitely the most flexible to fit your needs. Dependable, simple, affordable, and supported by a team with over 100,000 hours of security industry service. Give us a call.  You will not be disappointed.
Call

(800) 688-9633

or

CLICK

to see if this affordable and incredibly capable NFC and QR scanning security guard app is the best scanning app for your needs.